How to customize football gloves? (No Minimum Quantity)
2020-11-11
Posted by Invictus Gloves
Football Articles
When it comes to football gloves, nothing can beat a pair made by you, just for you. Custom football gloves allow players to have an unrivalled fit and comfort level, as well as allowing them to design exactly the look they want to wear on the field. Offering custom football gloves is part of the history of Invictus, when our founder realized that personalized football gloves were exclusive and not very accessible. He wanted to offer all football players the opportunity to have their own pair of gloves that fit their image and identity. 
However, sometimes it can be confusing where to start or what the process is, so let's walk through how to customize football gloves.
Invictus' Gloves Creator allows you to build your own custom gloves, quickly and easily to your exact specifications. With an easy-to-use interface and a myriad of options, you'll be sure to find what you're looking for when you customize your football gloves. 
Choose your colors
The first step is to customize the look of your gloves, using Invictus' super user-friendly 3D Gloves Creator. Invictus let you choose from 19 different colour options on several different sections of the glove, allowing for thousands of potential different glove choices. On the back of the glove, you can apply whatever colour you choose on the top, seams, wristband, and strap, as well as giving you the option of a stripe across the fingers, a central V down the middle of the glove, and a strap pattern. On the palm of the glove, it gets even better.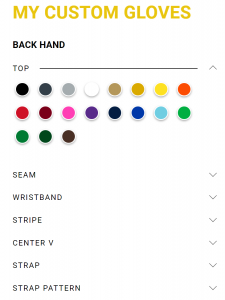 CUSTOMIZE YOUR PALM
Along with choosing the colour, you can also add a custom text or logo, for your number, team name or badge. Anything else you want to show off when you play. You can see your glove come together in real time with the awesome 3D visuals on the Glove Creator, allowing you to preview what your creation will look like from every angle online before you confirm your order.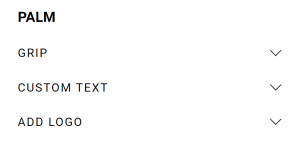 CHOOSE YOUR SIZE & QUANTITY
The next thing to look at is what size you need, by measuring yourself or using Invictus' sizing chart. If you'd like more help with glove sizing, you can check out our blog post on how to determine what size football gloves are right for you. 

PERFORM ON THE FIELD
This level of customization and ease of use, with the glove quality you get from Invictus means a customer experience that can't be matched. Invictus football gloves are trusted by professional players, teams, coaches, and amateurs across Canada and the US, and meet all the standards you want for great running back gloves. 
Findlay Brown – Writter
Looking for the best football gloves? CLICK HERE